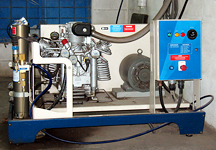 Survival Systems' Bauer EH-13 air compressor is capable of filling at rates up to 11.5 SCF/m (0.33 cu m/m) and pressures up to 6,000 psig (414 bar) and our Bauer sound attenuated Verticus fills at 9.0 SCF/min (0.25 cu m/m to a pressure of 5,000 psig (345 bar).
The air purification system in both compressors produces air up to CGA Grade "E" and Grade "D" standard which makes our air suitable for use in diving and industrial or fire operations. Compressor air filters are changed monthly or sooner if the actual filling volume dictates. Both air purification systems are monitored by an electronic Secures supervisory system which will shut the compressor down if the filter check parameters are exceeded.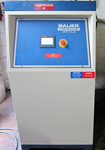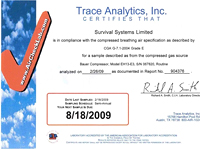 The compressor suction is taken at 20' (7 meters) above ground and is upwind of our facility. Our air is tested by an independent US laboratory that is A2LA certified and who provides the innovative and accurate sampling kits and media. Testing and certification to CGA Grade" D" and "E" standard is done every six months or as required by the client and includes both the ambient air as well as the compressor discharge. The sampling protocol is based on the NFPA requirement for 500 litres of sample air passed through the sampling media
Proper compressor and filling logs are maintained and all cylinder visual inspections are conducted in accordance with the requirements of CGA 6.0 (steel cylinders), 6.1 (aluminium cylinders), and 6.2 (fibre wrapped and composite cylinders). As part of the filling procedure above we also conduct a "hammer test" and a determination of the hydrostatic test date to ensure that the cylinder is in code. If the cylinder requires de-valving an internal visual inspection is required.
Professional Air filling of:
Air Cylinders
SCBA cylinders
SCUBA tanks
EEBA and EBA cylinders